Dental Implants at Dental On Falconer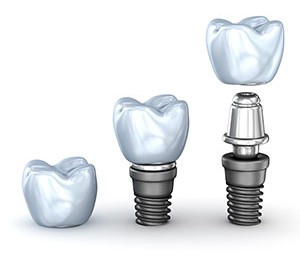 Are you missing a single tooth, multiple teeth or all of your teeth? You've probably considered replacing them but may be unsure where to begin.
At Dental On Falconer, we're here to guide you in reaching your oral health goals. If you want to replace your teeth, dental implants are the most advanced solution available. Our dentists are well-versed in managing the implant process.
A Biocompatible Solution
A dental implant is a titanium post that is surgically inserted into the jawbone. The body then accepts it as the root of a tooth. On top of the titanium post, a dental crown, bridge or denture can be attached. An implant is appropriate for people who would like to replace one tooth, several teeth or all teeth. When completed, it is the closest option to having the function and appearance of a natural tooth.
The many benefits of dental implants include:
A high success rate
Enhanced bone development
Noninvasive to other teeth
Results that last a lifetime
Used in a variety of situations
First, we'll need to establish whether you're a candidate for dental implants. All possible options will be discussed with you, which may include dentures or bridges. Once you have decided to move forward with a dental implant, there are going to be two separate phases to your treatment. During the first, you will be referred to have a titanium implant surgically implanted into the jawbone. A healing period must pass of about three months while the implant integrates to the bone. Meanwhile, we can give you a temporary crown to wear.
During the second phase of treatment, you'll return to our practice. We'll make sure that the area has healed and then fit you with a permanent crown, a bridge or a denture, depending on what is most appropriate for your situation.
When you choose us for your care, we want to make sure you have every question answered about your pending treatment. We want you to be an active part of your care so that the best results can be achieved. We promise that there will never be any surprises, and we'll always do our best to explain every part of the process in great depth. Should you have additional questions about implants not answered here, please don't hesitate to give us a call.
Who is a candidate for dental implants?
When you visit us for a consultation, If we think an implant may be suitable for you we will refer you to an oral surgeon who will place the implant. They will be able to tell you with certainty if you're
a candidate for a dental implant
. They will evaluate your mouth and determine if you have enough bone to hold a dental implant. If grafting is necessary, we'll discuss that option.
Why should I consider implants?

If you've been looking for a way to improve your smile due to missing, chipped, cracked, broken or severely damaged teeth, dental implants may be a great option for you. Implants are ideal because they are extremely natural looking and function just as your natural teeth do. They can also aid in speech and make for easier eating.

What's the best way to care for implants?
The best way to
care for implants
is the same way you'd care for your natural teeth-brushing and flossing regularly and visiting us for maintenance care. It's also recommended that you don't bite or tear hard food with your implants.
What's the implant process like?

After the oral surgeon determines you're a candidate for implants, they will take x-rays, discuss bone grafting (if necessary). The first step is to insert the titanium post into your jaw to secure the implant. During this time, you'll wear a temporary crown. After the bone has fused around the post, making it strong and secure, we can place your permanent crown, denture or bridge.

How much does a dental implant cost?

When you have your consult with the oral surgeon they will go through everything as each case is different and, it's difficult to provide a cost estimate. We need to see your mouth in order to recommend the best care plan. They will always do their best so that there are no financial surprises for you.

What is the recovery process like?

After the implant is placed, you should be able to go about your daily routine as usual. We ask that you rinse your mouth with saltwater to help keep any infection at bay. They will provide you with post-op guidelines.

Can dental implants break?

Without proper care, yes, a dental implant can break. It's important to care for an implant just as you would your natural teeth.
Want to Learn More?
Restore your smile. Contact us today to learn more about dental implants Southport! We provide early opening hours for your convenience.
CONTACT US

Dental Implants Southport, Ashmore, Molendinar QLD | (07) 5571 0866