Dr Tony Mendoza, B.D.Sc.Hons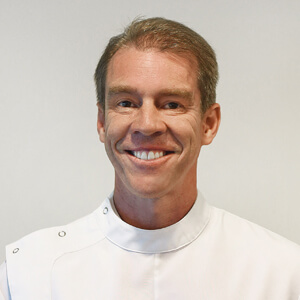 A born and bred Gold Coaster, Tony attended Aquinas College on the Gold Coast. He went on to graduate at the top of his class with First Class Honours from the University of Queensland Dental School in 1990.
After graduation, Tony spent a year travelling through rural and remote Queensland as part of the Queensland Government School Dental Service where he exclusively treated school children. He then joined Queensland Health on the Gold Coast where he worked for many years in the public health sector, providing dental treatment for the broader community including medically compromised patients.
Tony has also worked in Indigenous Health Services and for 10 years taught Crown & Bridge at Griffith University Dental School on the Gold Coast. He joined Dental On Falconer in 2003.
Experience and Accomplishments
Tony is highly experienced in all areas of general dental practice but has a particular interest in implant dentistry. Since 2012, he spends time each month working in a specialist implant practice on the Gold Coast where he restores complex and challenging implant cases as well as carries out other complex restorative procedures.
A published author in many well-respected International Journals, Tony has published papers in a variety of areas including periodontology, dental radiography and denture construction. Having lived in Japan and visited the country on many occasions over the years, Tony is fluent in Japanese and is very familiar with the country and its culture. He has a sizeable Japanese patient base as a result.
In His Spare Time
When he's not at the practice caring for our patients' smiles, Tony enjoys exercising and has trained at the gym since he was a teenager. He also enjoys hiking and bushwalking. When time permits, he loves travelling the world and exploring fascinating and exotic destinations.
CONTACT US

Dental On Falconer | (07) 5571 0866