Full & Partial Dentures at Dental On Falconer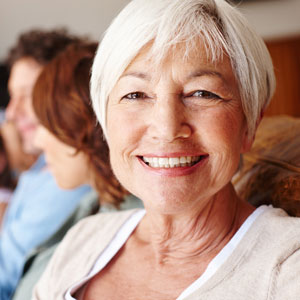 The Dental On Falconer team provides a full suite of dental solutions to make sure that you can show off a smile that you're proud of. If you're missing multiple teeth or all of your teeth, you deserve to be able to eat the foods you want and speak with comfort again. Dentures are a tried-and-true option to replace teeth with incredible advances made in the fit and feel of them over the years.
Today's dentures aren't the same as what was available in decades past. Now, you can choose to have your dentures created in a broad range of materials depending on your needs and budget. They're available in two forms: full and partial.
Restoring Your Smile
A partial denture is appropriate for people who still have some of their natural teeth. They can be created for the upper arch or the lower arch. Your existing teeth can remain as long as they are healthy, and the denture will fit securely around them.
A full denture is what most people think of when dentures are mentioned. They go over the upper and lower arches, completely covering the gums and replacing all teeth in the mouth.
Modern Valplast Dentures
More recently, a flexible material has become increasingly popular to create dentures. Though most are usually made of acrylic, metal or a combination of the two, Valplast is a new material available on the market. There is no need for metal clasps that go around teeth. Patients report that dentures made of Valplast boast a higher degree of comfort than traditional dentures. They may not be suitable for certain situations, and we'll discuss what we recommend in your case.
The Various Options for Teeth Replacement
There are many options to replace teeth, including dental implants and bridges. If you're unsure which is right for you, we'll be happy to have a consultation with you to discuss the choices and what we would recommend for your particular situation.
Dentures are easily maintained, which is one of their greatest advantages. You'll take them out at night to be cleaned in a specialised solution, then wear them again in the morning when you wake.
Ready for your best smile?
Don't wait to regain your ability to eat the foods you like and speak with confidence. Contact us today to discuss getting dentures Southport! Same-day visits are available.
CONTACT US

Dentures Southport, Ashmore, Molendinar QLD | (07) 5571 0866